Return to Headlines
James Young Named 2022 Missouri Teacher of the Year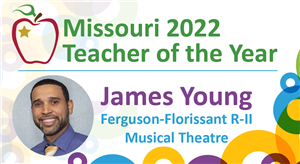 James Young, musical theatre teacher at Johnson-Wabash 6th Grade Center, had an unexpected surprise when district administrators and the current 2021 Missouri Teacher of the Year, Darrion Cockrell, entered his 5th-hour class. Superintendent Dr. Davis announced Young as the 2022 Missouri Teacher of the Year. District and building administrators flooded his class with balloons, flowers, and rounding applause, including Curtis Terry, assistant director with Missouri Department of Elementary and Secondary Education, with this history-making announcement. Young will be the first Ferguson-Florissant School District teacher to receive this honor.
"It is an incredible honor to celebrate Mr. Young as the Missouri Teacher of the Year," said Superintendent Dr. Davis. "He exemplifies the impact teachers have in touching the lives of students and the students in our community."
Young grew up in Kinloch and attended Ferguson-Florissant Schools. He resides in Ferguson with his wife and seven children. His grandmother, a retired music educator from Ferguson-Florissant School District, instilled the idea of going into education at a young age. He has spent most of his 14-year teaching career in the District. "I grew up here, went to school here, graduated from McCluer North, and came back to teach here," said Young. "This honor is for every FFSD student and the entire community. This recognition represents that we have great teachers doing great things in public education. We get it done."
Throughout his career, building collaborative partnerships have been an integral part of his teaching experience. He has worked with organizations like St. Louis Dancing Classrooms, St. Louis Classical Guitar, Strings Attached, and LIFE Arts Inc. to help bring high-quality arts education to his students and the school community.
"Missouri is fortunate to have so many passionate, dedicated educators, and James is certainly one of those shining stars in our state," said Commissioner of Education Margie Vandeven. "James's teaching style emphasizes the importance of developing both academic and life skills through arts education, and he strives to educate the whole student. As the pandemic continues, this is an important focus for so many educators, so James will certainly be a wonderful representative as our state's Teacher of the Year."
Young earned a bachelor's in music education from the University of Missouri — St. Louis. Young will serve as Missouri's representative in the National Teacher of the Year program. He will be honored during DESE's Teacher of the Year recognition event in Jefferson City on Tuesday, October 19, along with the other six finalists, semi-finalists, and Regional Teachers of the Year.
The Missouri Teacher of the Year program recognizes the efforts of effective teachers, working tirelessly to provide a high-quality education to their students.