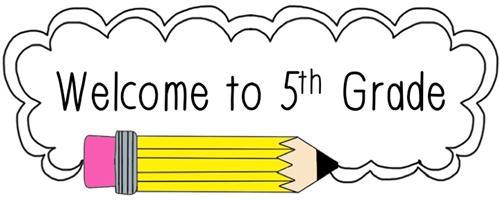 WELCOME TO 5TH GRADE!
We look forward to working with you all!

1. Class Dojo. In 5th grade, we use class dojo to keep track of daily behavior. You can access DOJO online using your parent code and you will receive weekly emails regarding your child's behavior.

2. Planners. The planner will come home every night and will inform you of assignments and upcoming events. The students will also mark down their DOJO points (both positive and negative) in their planners and the teacher will sign them before they come home. We would appreciate it if you could check over homework and sign the planner every night.

3. Homework. Students will have homework on a nightly basis. They will also have a HOT SHEET come home every Thursday evening. This is to be completed with a parent and returned completed and signed on that following Monday. Students are expected to know multiplication facts through 12 by the first day of school! Please work on these this summer.

4. Supplies. Students will need their supplies on the first day of school. If you are unable to get to the store, we will have pencils, notebooks, scissors, and glue for sale on the first day of school. Students will need an expansion folder with at least 5 pockets! We will keep the planner and homework in the expansion folder. It will come home every night and need to be returned to school every day. You are welcome to bring supplies on Meet the Teacher Night in August.

5. Syllabus. All of the classroom rules and routines are located in the class syllabus that will be shared with students and parents when we return to school in August.

---

Science Fair Projects

The 5th grade students are required to complete Science Fair Projects. We will begin the process in January. Mrs. Holway and Mrs. James will get the kids started, and then they will be responsible for completing the experiment on their own.

Field Trips

We will be participating in a field trip to the Challenger Learning Center (located next to MSB). This center offers hands-on, minds-on science activities for our students. We will also spend a half day at Shaw Nature Reserve and a half day at the Wolf Sanctuary in October.

Switching Classes

Students will be switching classes for Communication Arts and Math in 5th grade. Students will have either Mrs. Holway or Mrs. James for these classes. Switching classes requires responsibility. Students are expected to be prepared for every class.

DARE

Florissant Police Officer Summers will lead the students through the DARE program in the fall. The students will graduate DARE in December.

Communication

Please feel free to contact Mrs. Holway (ext. 1018) or Mrs. James (ext. 1016) if you ever have any questions or concerns. We are usually unable to answer the phone during times when we are teaching, but please leave a voicemail and we will get back to you as soon as we can. You can also send us a message through class dojo. We are also available through email: cholway@fergflor.org and cjames@fergflor.org.