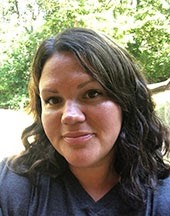 Kelly Stafford is the Robinwood Art Educator who is a graduate of McKendree University with a Master of Arts in Education as well as a Bachelor of Fine Art in Visual Communications. Most recently, she has completed +30 hours with Truman State.

Before coming to Robinwood she taught visual education at Airport, Holman, and Wedgwood Elementary schools, and has also taught at the high school level. Before becoming a teacher, she worked in the Marketing and Communications Department as a Graphic Designer at SIUE.

Her goals are to get students to think outside of the box, express themselves creatively, and persevere. Also to help students realize that many skills learned in the art room can cross over into everyday life and help to problem solve. Achieving these goals will help our students communicate better and become more successful learners.