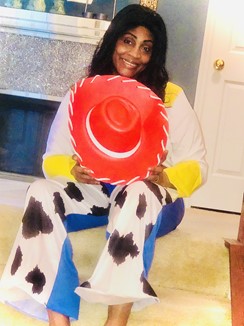 RaShawn Johnson is currently serving in the capacity as the Library Media Specialist at Robinwood Elementary. It is the norm to observe her dressed in eye-catching costumes and theatrical attire where she utilizes captivating anticipatory sets to "hook and hold" her students' attention, as she introduces varied genres of books and technological research literature.

Mrs. Johnson realizes that reading fluently is a gift, and a much needed critical skill, essential for personal and academic success.

During her vast 22 years in education, she has worked in numerous educational and professional roles such as: a classroom teacher, grades 5-6-7-8, grade level chair, a reading specialist, an Instructional Support Leader, a gifted instructor, teacher in charge and an administrative site supervisor during summer school sessions at various locations inside and outside of the district.

She is a professional storyteller and public speaker and has hosted her own television and radio shows. She is a published author and she created her own personal mobile reading bus and travels throughout Illinois, and the Saint Louis Metropolitan area, promoting literacy and lifelong learning. She is best known for designing detailed lesson plans, and employing sound research- based instructional practices; modeling these practices for other teachers during professional development presentations/workshops.

She is a graduate of Belleville Area College, with an Associate of Arts in General Education, two Bachelor's degrees from McKendree University (Sociology) and Fontbonne University (Education), a Master's degree from National Louis University in Curriculum and Instruction and an Ed. Specialist degree from Walden University in Action Research. She is currently attending Webster University and will defend her dissertation in October, of 2020, and will obtain her ED.D. in Transformational Global Leadership.

She is a proud member of Delta Sigma Theta, and she dedicates a significant amount of her time mentoring and providing individualized tutoring sessions for struggling readers and college bound students. RaShawn is an avid reader, and has been recognized locally and nationally for her renowned educational excellence and academic diligence. She looks forward to returning to the district, and motivating and inspiring all students to gain an innate desire for reading, speaking, listening and writing; where they can reach unprecedented technological, and global success; and become productive citizens of society .