Return to Headlines
Ferguson Middle Teacher Named a Regional Teacher of the Year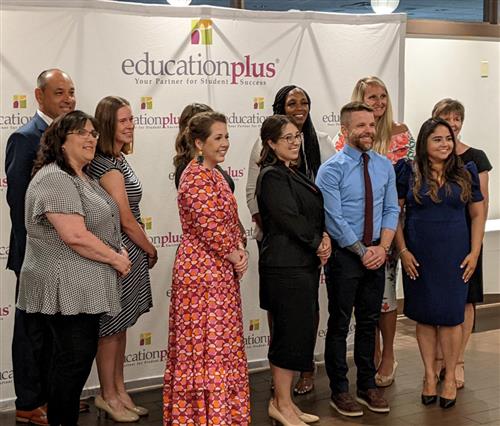 Cotreena Jones, ELA teacher at Ferguson Middle and the 2022 FFSD Teacher of the Year, has been named a 2022 Missouri Regional Teacher of the Year. Education Plus and the St. Louis Regional Professional Development Center selected Jones as one of 10 awardees from the St. Louis region, chosen by a committee of her peers as a teacher of excellence. This selection makes Jones eligible to participate in the state level Missouri Teacher of the Year program, which is conducted annually by the Department of Elementary and Secondary Education (DESE).
Jones works diligently to develop and maintain meaningful relationships by setting high expectations and cultivating a warm and trusting classroom environment. Her efforts result in high achievement for her students and helps students foster a positive school culture.
The Teacher of the Year program — by EducationPlus and the St. Louis Regional Professional Development Center (RPDC) — recognizes and honors the contributions of the classroom teacher as no one has a greater impact on the education of a child than a teacher who creates a learning environment where children flourish and grow. The mission of the Missouri Teacher of the Year program is to honor, promote and celebrate excellence in the teaching profession.
These regional honorees will submit their applications to the Missouri State Teacher of the Year program. The Department of Secondary and Elementary Education (DESE) will then select a Missouri Teacher of the Year in October 2022. The Missouri Teacher of the Year will automatically become a candidate for the National Teacher of the Year honor.
The honorees were nominated by their school district and asked to submit an application. These applications were reviewed and scored by a committee of nine educational professionals. The ten honorees include:
Josh Groh, Mehlville School District

Erin Hemme, Special School District

Emily Hilligoss, Grandview R-II School District

Cotreena Jones, Ferguson-Florissant School District

Kristina Kohl, Lindbergh Schools

Ana Lopez, St. Louis Language Immersion School

Christina Andrade Melly, Ritenour School District

Katherine Meyers, Kirkwood School District

Bergen Toth, Rockwood School District

Jennifer Willis-Nichols, Wentzville School District
On Monday, July 18, 2022, the honorees were honored at a banquet along with their peers, school administrators, and family members.