Return to Headlines
Board of Education Recognitions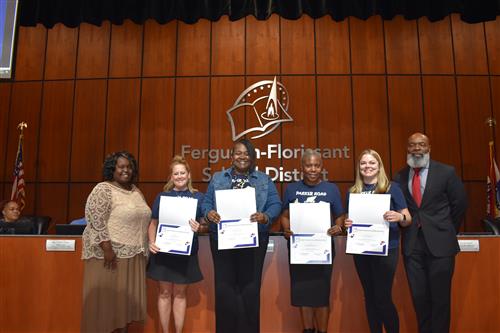 Parker Road Teachers Provide Expert Instruction on STEM Education Through DESE
Four teachers from Parker Road Primary were the only primary-level teachers to present at the Interface Conference. The Interface Conference is supported by DESE for Mathematics and Science. The conference theme for 2023 provides opportunities to highlight and examine STEM education, complementing the common themes of improving academic performance and encouraging students to pursue STEM-related fields and careers. Through innovative STEM education, educators can enhance student creativity, collaboration, and communication skills while advancing their science and math knowledge and providing the potential to transform lives, re-imagine education, and respond to some of the world's most complex issues at local and global levels. We would like to recognize: Kimberly Berry; Vivianne Young; Miracle Jones and Sara Tehan.
Wedgwood Students Win Middle School Level FFSD Mediation Tournament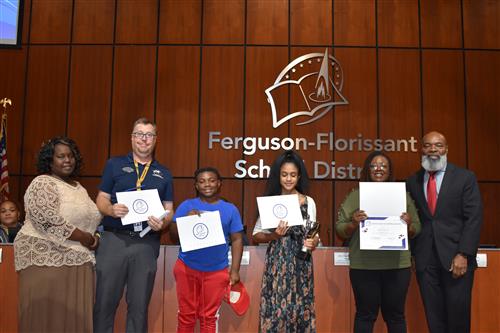 Congratulations to the Wedgwood 6th Grade Center for winning the middle school-level Ferguson-Florissant Mediation tournament. The team displayed exceptional interpersonal skills, critical thinking, and stellar negotiation abilities. Their remarkable achievement reflected their dedication to conflict resolution and their commitment to creating a harmonious academic environment.
Congratulations to: Nadia Salem; Anthony Pruitt; D'Maurielle Lewis and Mediation Tournament coach Erika Jackson-Essiem
STEAM Middle Students Earn Honors During National History Day Nationals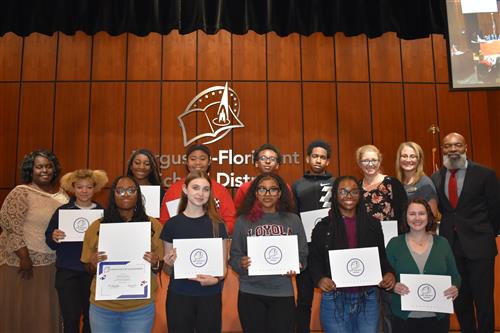 Each year, students nationwide in grades 6 to 12 -participate in National History Day contests. ​They conduct extensive research on a historical subject that they choose and present findings by creating documentaries, exhibits, papers, performances, or websites, all while meeting Missouri Learning Standards. Their projects are judged by university faculty, History Graduate Assistants, and other qualified members of our district and of the community.
The State Historical Society of Missouri administers National History Day in Missouri. The regional contests occurred in St. Louis in March and the state competition was in April at the University of Missouri-Columbia.
The following student and group earned a Special Prize Recognition at the state completion:
AAUW Women's History Prize: Nyia Ross
Strickland Memorial African-American History Prize: Aniyah Moody; Jordyn Kelly; Kaylon Simpson, and Braxton Carter.
State top winners in each category earned the opportunity to serve as Missouri delegates to the National History Day Contest in College Park, Maryland in June. The following student and group went to the University of Maryland in June for the National competition:
-First place in state in Individual Performance - Josie Renaud
-Second place at state in group performance - Vanessa Winters; Sarah Diamond; Mina Irani and Zaria Easterling.
Thank you to Mrs. Clay and Mrs. Goss as they supported students throughout this process to learn content deeply!
Innovation Community Service Provides 1.5 Million Meals for Children in Haiti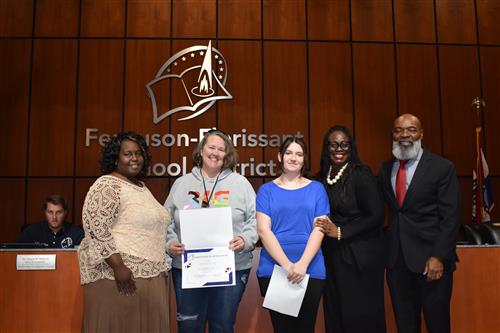 Innovation School at Cool Valley organized a school-wide community service event.For the fourth year in a row, Innovation partnered with Gateway Christian Church for a mobile pack event for 'Feed My Starving Children,' a non-profit organization dedicated to feeding kids in developing nations. Innovation students, staff, parents, and mentors have provided 1.5 million meals since the partnership started in 2019. This effort will provide a meal a day to thousands of children in Haiti for an entire year. This all-school community service event could not have been possible without Angela Turigliatto, 12th-grade advisor at Innovation. Ms. Turigliatto's commitment to bringing community service opportunities to Innovation and your hard work are truly appreciated. We would like to recognize Angela Turigliatto and Innovation High School.
Innovation Student Creates Give Back Program for St. Vincent Home for Children
The Ferguson-Florissant School District would like to recognize Jayden Crayton for his community work that is making a positive impact at Innovation High School. Jayden is a senior who strives to get students at Innovation involved in community service initiatives. Currently, Jayden is working closely with The Core Collective at Saint Vincent Home for Children in a collaborative effort to collect gloves and socks for children in need. Jayden is also connecting his passion for sports, specifically basketball and football, and community service to co-host a basketball community scrimmage that will bring the entire community together for a great cause this winter season. We would like to recognize Jayden Crayton for his leadership and work in making our community a better place.
McCluer Student Earns St. Louis Post-Dispatch Scholar Athlete Recognition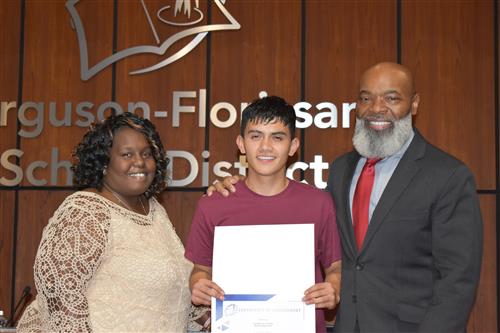 We would like to recognize Jose Ramirez, who plays soccer at McCluer, for receiving the St. Louis Post-Dispatch Scholar Athlete Recognition. The McCluer soccer team finished with a winning season with a 13-3 record. They finished the season earning a first-place tournament win in the McCluer District Soccer Tournament.
Jose is a center midfielder and team captain. Jose ranks among area leaders with 97 points on 36 goals and 25 assists. He is the third-highest scorer in the entire state of Missouri and has the most assists in Missouri. He has six game-winning goals for McCluer. We are proud to recognize Jose Rodriquez Ramirez.
McCluer Seniors Have Earned Scholarship Awards for College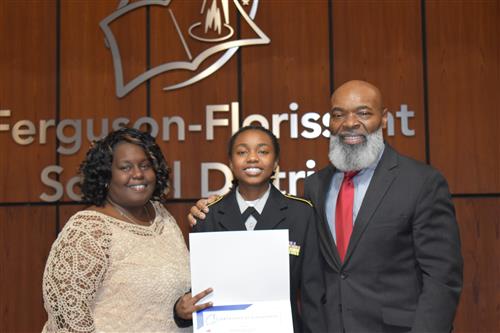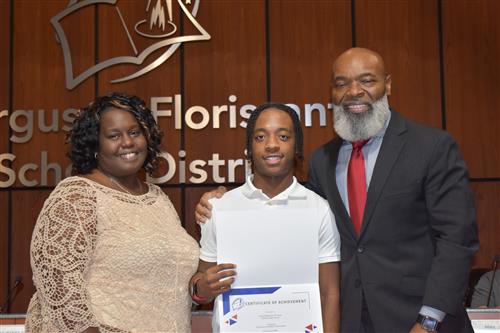 Congratulations to Cadet First Sergeant Jakyra T. Henderson, who has been awarded a U.S. Army ROTC National 3-year Advance Designee Scholarship to Lincoln University. As part of her 3-year national-level ROTC Scholarship to Lincoln University, she has earned a campus-based ROTC scholarship for her freshman year as well. With both scholarships combined, Cadet Henderson will have all four years - a full-ride scholarship at Lincoln University that will include 100% tuition and fees paid, a $1,200 stipend for books, all room and board, and a $420 monthly stipend.
Huge congratulations to McCluer senior David Middleton, who has already earned more than $200k in scholarships for college with more on the way. He is an A student, taking AP courses. When he steps onto campus this fall, he will be a first-generation college student. He has currently been accepted into the following colleges and universities so far:
Lane College (HBCU)
Missouri S&T - Rolla
The University of Memphis
Jackson State University (HBCU)
UMSL
Missouri State University
Maryville University
Alabama A&M University (HBCU)
Wilberforce University (HBCU)
Southern Illinois University- Carbondale
Lane College (HBCU)
Morgan State University (HBCU)
We are proud to recognize Cadet First Sergeant Jakyra T. Henderson and David Middleton.
STEAM High Students Selected for the UMSL Bridge Program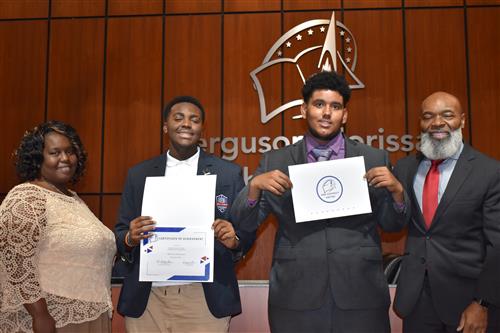 STEAM High has three students accepted into the UMSL Bridge Pre-Collegiate Program. The Bridge Program serves students by diminishing obstacles to college entry. The STEAM students selected for this program will spend two Saturdays each month at UMSL that focus on math, science, writing, career and personal development, and college prep sessions. The program will also offer students year-round comprehensive support services to help students better prepare for college. Tonight, we have the following students to represent the group. Congratulations to: Yohance Abdelkarim; Cincere Buckley and Jamiya Petty.
St. Louis County 2023 Outstanding Student Leader
The Outstanding Student Leadership Program provides training and recognition to youth in St. Louis County, assisting with the development of the skills needed to be effective leaders and citizens. One model senior and aspiring leader from each county high school is nominated annually by his or her principal for participation in a leadership conference and recognition ceremony. This year, we are proud to recognize STEAM High student: Arieona Phillips.
STEAM High Students Among Those Selected for the St. Louis Suburban Honors Choir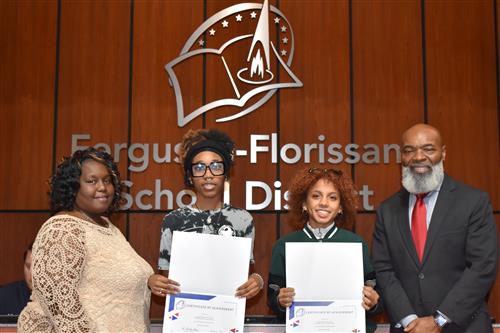 The Ferguson-Florissant School District would like to recognize the following students for being selected for the 2023 St. Louis All-Suburban All-District Honors: Angel Taylor; Hope Scott; Lelani Williams; Joisay Campbell; and Isaiah Taylor. Isaiah Taylor made both the suburban honor choir and the all-state choir.
To receive this recognition, each student had to complete a three-minute sight-singing audition and a 60-second vocal solo. The performances were then adjudicated by a group of music teachers. Each of these students was scored as an advanced singer and selected for the St. Louis Suburban Honor Choir.
FFSD Students Attend FBLA National Leadership Conference in Atlanta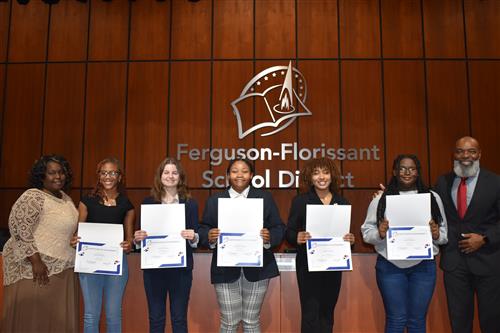 Students from STEAM High qualified to compete at the Future Business Leaders of America (FBLA) National Leadership Conference. FBLA nationals were held this summer in Atlanta, Georgia, where over 14,000 students competed from across the country and globe. The following students from STEAM attended and competed in the event: Ashley Taylor; Hailey Crable; La'Tahvia Williams; Dani Strehle and Leilani Billups.
Ashley Taylor and Dani Strehle qualified for finals. Ashley Taylor placed 9th in Social Media Strategies and Dani Strehle Placed 6th in public speaking.
McCluer North E-Sports Team Continues to Excel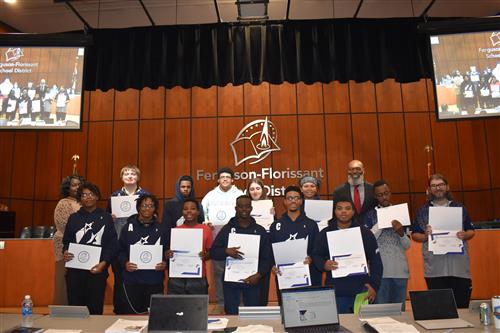 We would like to recognize the McCluer North ESports team for their hard work and amazing efforts as one of the newer extracurricular offerings for District high school students. The team, under the leadership of Coach Nick Metropoulos, has been instrumental in helping in the design and creation of the new Esports center at the Florissant Eagan Community Center. ESports, shortened from electronic sports, consists of students competitively playing games against students from rival schools. The competitions work to develop collaboration, communication, creativity, and critical thinking in students through video games.
The team's motto is " Per Aspera Ad Astra!" which means "through hardships to the stars!" The Esports Team has grown to more than 60 students. We have several team members here tonight, and we would like to have them come up along with the team coach, Nick Metropoulos and the MN Esports Team:Aaron Harrison; Jamarion Fischer; Javion Moore; Larry Fletcher; Dawson Stocker; Michael Squalls; Hayden Robertson; Joesph Pillado-Wallace; Ian Hughes; Jayden Mclarren; Trey Smith; Davion Smith; Zion Norman; Nathaniel Maxwell; Damarion Holmes; Joshua Calvin; Marcus Harris; Khaleb Minor; Sean Fulks; Jacob Jones; Cortez Nelson; Cameran Mahand; Jeriah Williams; Joshua Williams; Jacob Hanson; Justin Hanson; Devon Borders; Frederick Patrick; Jayden Thomas; Audrey Thompson; Michael Baker; Damon Hoover; Martrell Smith; Damarion Page; Marcus Clame; Kenton Robinson; Jeremiah Altheimer; Caleb Duncan; Donovan Temple; Jaden Sewell; Mahki Sands; Shawn Clark; Orlando Garcia; Nathan James; Gregory Hammond; Alexandria Strawser-Kling; Malik Jackson; Alex Love; Jesse Forsythe; Nicolas Trice; Dwight Williams; Jael Pointer; Aniyah Sanders; Jayden Redd; Robert Hicks; Sam Holland; Mariah Foster; Maggy Mayer; Melanie Llyod; Jalyen Smallwood; Venus King; Dillon Louis; Amarre Patrick; Jordan Ramirez.
Transportation Department Awarded for 30 Years of Exemplary Bus Maintenance from the State of Missouri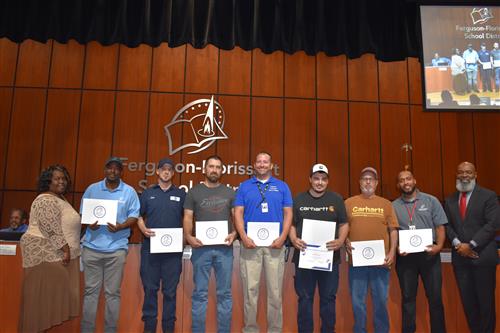 Congratulations to the FFSD Transportation Department on earning 30 years of exemplary bus maintenance. In order to receive this award, you must receive 90% or better on the Missouri State School Bus Inspection every year for 30 consecutive years. This year, our Transportation Department received 100% on the annual inspection. Ferguson-Florissant is one of only four school Districts that have received this award out of 518 Districts in the State of Missouri. The Department and District were recognized at the annual conference at an awards ceremony in July.
The certificate reads: Exemplary School Bus Maintenance Award The Missouri Department of Elementary and Secondary Education hereby recognizes and commends Ferguson-Florissant R-II for its exemplary school bus maintenance program, as evidenced by "compliance with 90 percent for 30 years" passage of Missouri school bus regulations and safety standards during the Spring 2023 school bus inspection, conducted by the Missouri State Highway Patrol. This is no small feat. The inspection process is tedious and involves many people and processes throughout the year that are an integral part of providing safe transportation for our students. Having safe school buses is a true team effort, from the Superintendent recognizing and supporting the need for updated buses and safety features to the CFO with budgeting for maintenance and purchases to the drivers that perform the 47-step pre-trip.
We could never have reached this honor without the outstanding mechanics over the past 30 years, including our current mechanics, who have set the bar high for the Department and have been able to create a process that has obviously worked well for at least 30 years! This year is evidence, based on the process that was followed and the tremendous amount of work that was poured into preparing, making a perfect 100% pass on inspection day. Their dedication and performance reflect greatly upon them and their leadership team, the entire Transportation Department, and the Ferguson Florissant School District. Thank you for all of the hard work and dedication, and congratulations to Transportation Director Kevin Pirrung and his dedicated team on receiving this amazing honor. We would like to recognize: Kevin Pirrung; Jason King; Coquabus Liddell; John Star; Steve Ruffino; Tim Wright; Timothy Wright, Jr.; Josh Heuiser; and the entire Transportation Department.
Dr. Joycelyn Pugh-Walker Named 2023 Stellar Performer in Education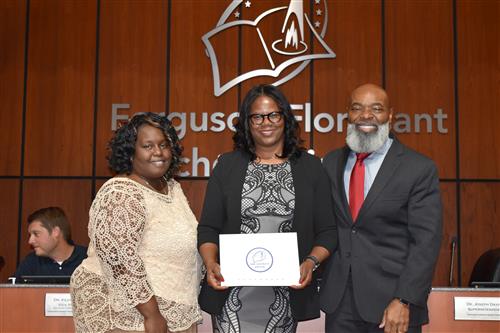 Congratulations to Dr. Joycelyn Pugh-Walker on being selected as one of the 2023 Stellar Achievers for the Salute to Excellence in Education by the St. Louis American Foundation. She was honored at the Salute to Education Gala at America's Center in Downtown St. Louis on November 4. She is an advocate for child safety prevention and has been instrumental in safety mechanisms and programming to educate students on gun violence prevention and trauma. Serving as the district's executive director of federal programs, Joycelyn is responsible for financial planning and managing public and non-public school federal funds for the District. She continues to focus on ways federal dollars can support the classroom and improve outcomes for all students. We are so proud of her achieving this well-deserved accomplishment. We would like to recognize Dr. Joycelyn Pugh-Walker, 2023 Stellar Performer in Education.
Five Student Board of Education Representatives Named Finalists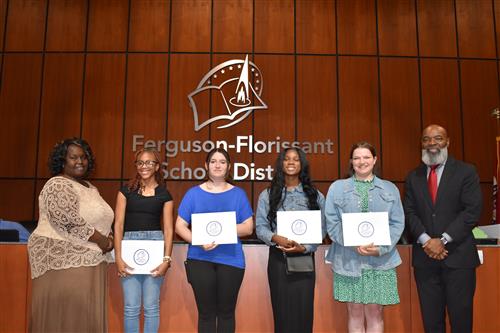 This August, the Board of Education passed Policy 4019, a policy that allows a student to be a non-voting member of the Board of Education.
This student will attend Board of Education Meetings, where they will have an opportunity to weigh in on important topics about our school experience, as well as be a voice for the over 9000 students in our district. The process for electing our student board representative has started and has been narrowed down to five finalists. Please meet our five Board of Education student representative finalists:
Innovation High School:
Chloe Sampson - Chloe is a sophomore at Innovation High School. She is the daughter of Kimberly David. Her favorite subject is Art, and she plans to explore culinary or teaching after graduation.
STEAM High School:
Lelani Billups - Lelani is a junior at STEAM High School. She is the daughter of Jasmine Cobb. She is currently a board member of State Senator Brian Williams Youth Advisory Board.
Mark Twain Restoration & Wellness Center:
DeSean Chatman - DeSean is a sophomore at Restoration and Wellness Center. He is the son of Cleodora Henry and Michael Henry. In his spare time, DeSean enjoys reading nonfiction.
McCluer High School:
Tatyana Edwards - Tatyana is a junior at McCluer High School. She is the daughter of Nitika Mack. She currently maintains a 3.9 GPA.
McCluer North High School:
Geneva Hackl - Geneva is a sophomore at McCluer North. She is the daughter of Eric and Michelle Hackl. She is currently number one in her class.