Return to Headlines
Board of Education First Quarter Recognitions
New this school year, the Board of Education has revised its student and staff recognitions from honoring the individuals monthly to quarterly celebrations. Each quarter, a meeting will be held solely for recognizing individuals in the district who have excelled. The first recognition meeting was held in late October and the honorees are as follows:
Three STEAM Academy at McCluer South-Berkeley students took top honors int he Iota Phi Lambda Sorority Inc., Alpa Zeta Chapter, National Essay Contest. The students, Ahnicia Kelly, William Bostic and Jaliyah Crawford, who are all ninth-graders, and place first, second and third, respectively, will present their essays at the sorority's 38th annual Apple for the Teacher awards luncheon on Nov. 23.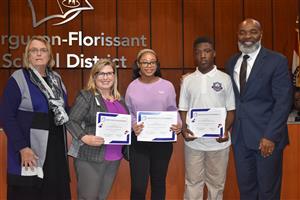 STEAM Academy Middle School students Isaac Roades, Javon Ivy, Leslie Tuck, Sebastian Gutting, Megan Banholzer, Evan Hines, Anabelle Phillips and Hailey Crable placed third out of 39 teams in an area-wide Book Battle last spring. The school received a stack of books for the library and a $50 gift certificated from Booksource. The students each received a medal and $10 gift certificate to a Scholastic book fair.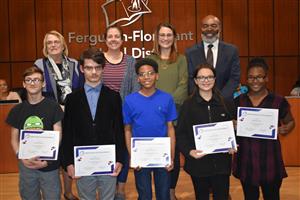 Ferguson Middle School seventh-grader Kaden Garner and eight graders La'Niya Starks, Zy'Trell Sane and Justin Jones, together with Garden Club sponsors, Susan Heidorn, Holly James Savannah Anthony and Kathleen Berhorst sell floral arrangements, herbs and vegetables grown in the schools garden at the Ferguson Farmers Market. They also sell bath salts and sugars incused by lavender and mint grown in the garden, as well as lip gloss infused with lavender and mint made by the Family and Consumer Sciences class. The students prepare the items for market during the week. Proceeds go back to the school's garden and chicken project.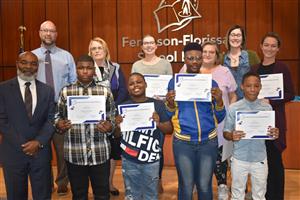 Aviana Carter, a ninth-grader at the STEAM Academy at McCluer South-Berkeley completed the Wings of Hope program this fall with her culminating flight. Aviana isn't old enough to drive a car, but she has flown a plane!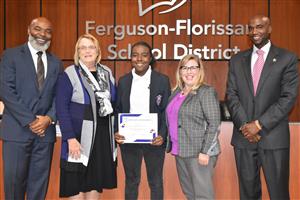 McCluer North student Jada Pitman competed in the Network for Teaching Entrepreneurship NFTE global competition. She advanced to the semi-finals with her business Bowd Out. Bowd Out is a customized skin for the bows for wood string instruments.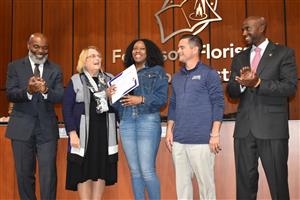 Airport, Robinwood and Halls Ferry Schools have been recognized by the Missouri School-Wide Positive Behavior Support (SW-PBS). SW-PBS is a framework for creating safe and orderly learning environments in schools, while improving the social-emotional outcomes for students.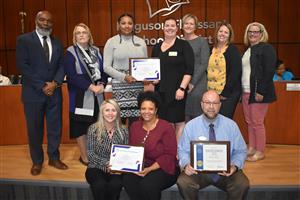 Iris McClendon, a counselor at McCluer High School, has been selected as a Delux Magazine Class of 2019 Woman Who Inspires.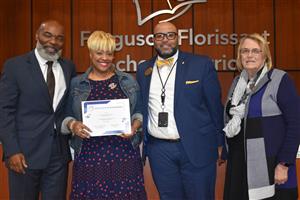 Technology educators Abby Erwin and Samantha Stearn have achieved the distinction of becoming ISTE (International Society for Technology Education) certified educators. ISTE certified educators have completed extensive professional development through Education Plus and have passed a rigorous evaluation of their portfolio by ISTE standards evaluators.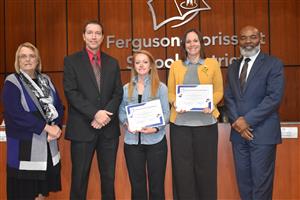 Pat Torpea, a computer software specialist in the Research and Evaluation department, was recognized for her diligent work on district accreditation (APR). Pat has enabled the district to predict current status, monitor progress and brought focus on a successful path, resulting in the district reaching outstanding levels of achievement.