Verification of Employment/ Income (VOE/VOI) Requests:
The Office of Human Resources is dedicated to protecting our employees' information. For this reason, we use Verifent to confirm verification of employment and/or verification of income (VOE/VOI) requests are legitimate, and a permissible purpose exists as defined by the Fair Credit Reporting Act (FCRA). Verifiers seeking employment and/or income information for a Ferguson-Florissant School District employee must submit VOE/VOI requests through Verifent.

To Submit a Request:

Log in at https://www.verifent.com/log-in. Please note that new Verifent users will need to register and create an account before proceeding.
When prompted, enter the organization code for Ferguson-Florissant School District: 1C6F24.
Please be prepared to provide the Ferguson-Florissant School District employee's date of birth and last four digits of the social security number. Additionally, uploading proof of consent, signed by the employee, is required to complete a request.

For additional information on this process, please visit www.Verifent.com
Notice to District Employees Regarding Verifent Verifications of Employement
It just got easier and more secure to…

Refinance your Mortgage
Apply for Government Assistance
Rent an Apartment
Buy a Car/Boat
And more…

The Ferguson-Florissant School District now uses to prove employment and income!

How does it work?

Provide your consent to the verifier when applying for a benefit, loan, or credit that requires proof of employment and/or income and tell them to visit verifent.com.
Provide Ferguson-Florissant School District's Organizational Code (1C6F24), the last four digits of your Social Security Number, and date-of-birth to the verifier.
The credentialed verifier, operating under the Fair Credit Reporting Act, provides a valid Permissible Purpose and must also have consumer consent for income information.
The verifier submits the request, and Ferguson-Florissant fulfills the request.

Questions?

Don't hesitate to contact your Human Resources department or speak to a Verifent representative by calling 1-833-786-7339. You can also visit www.verifent.com.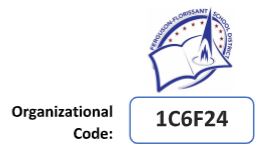 Message to Verifiers

Thank you for contacting the Ferguson-Florissant School District with your employment and/or income verification request. We use Verifent to respond to all verification requests. Therefore, you, the verifier, will need to visit www.verifent.com, register (a one-time event), and submit your verification request. Once the request is received through the Verifent website, we will securely respond to your request as soon as possible. Please see the instructions/FAQ's below to obtain the information you need.

What is Verifent?

Verifent is an employment and income verification service that proves employee's (consumer's) employment and/or income to credentialed verifiers. It allows credentialed verifiers with a valid Fair Credit Reporting Act (FCRA) Permissible Purpose quick access to important information that assists in their decisioning process. Additionally, it enables employers to quickly, securely, and confidently manage the employment and income information process.

How do I access Verifent?

Please visit www.verifent.com.

How do I register as a verifier?

Please visit www.verifent.com, click on the verifier section, and the register button.

Am I a verifier?

All verifiers must apply (www.verifent.com) and be credentialed (approved) before gaining access to Verifent. This is a one-time requirement. Additionally, every verifier must have an approved Fair Credit Reporting Act (FCRA) permissible purpose.

What information do I need to obtain a verification?

Our organization Code is: 1C6F24. In addition to our organization code, you will need the consumer's date-of-birth, last four digits of their Social Security Number, and proof of consumer consent for any verification including income information.

What is the difference between a commercial and government verifier?

A commercial verifier is anyone that is not a government agency; i.e., mortgage company, auto finance, apartment complex, pre-employment screening, credit card, etc… A government verifier is a government agency looking to assist a consumer. i.e., SNAP, TANF, WIC, child support, Medicaid, subsidized housing, etc...

For questions or support, please contact Verifent:

www.Verifent.com
833-786-7339
Support@verifent.com