FFSD Professional Learning and Evaluation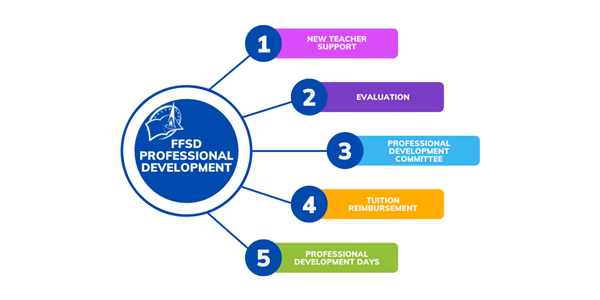 Welcome to the FFSD Professional Development website, which provides a variety of information regarding Professional Development, Evaluation, Tuition Reimbursement, New Teacher support, and more! The FFSD Professional Development Handbook will also provide details regarding PD, policy, and PDC. We hope that you find this site useful. If you have any additional questions that aren't answered here, please reach out to Jenn Kraisan.

---

Professional Development in the Ferguson-Florissant School District is led in partnership with the FFSD Professional Development Committee (PDC). This group of teachers and administrators represents all buildings from across the district and plays a vital role in the planning and facilitation of building-level and district-level professional development. The Mission and Vision of PDC are:

Mission

In order to create and sustain a community of learners, the Professional Development Committee will provide

research-based professional development to improve student achievement by growing teacher practice.

Vision

The FFSD Professional Development Committee provides stakeholders with strategies and resources that are innovative, collaborative, relevant, content-specific, and differentiated. The goal of PDC is to enhance learning for ALL students.